Dedicated Computing Provides Resources with NVIDIA for Kickstarting Edge AI Development
Posted by Dedicated Computing on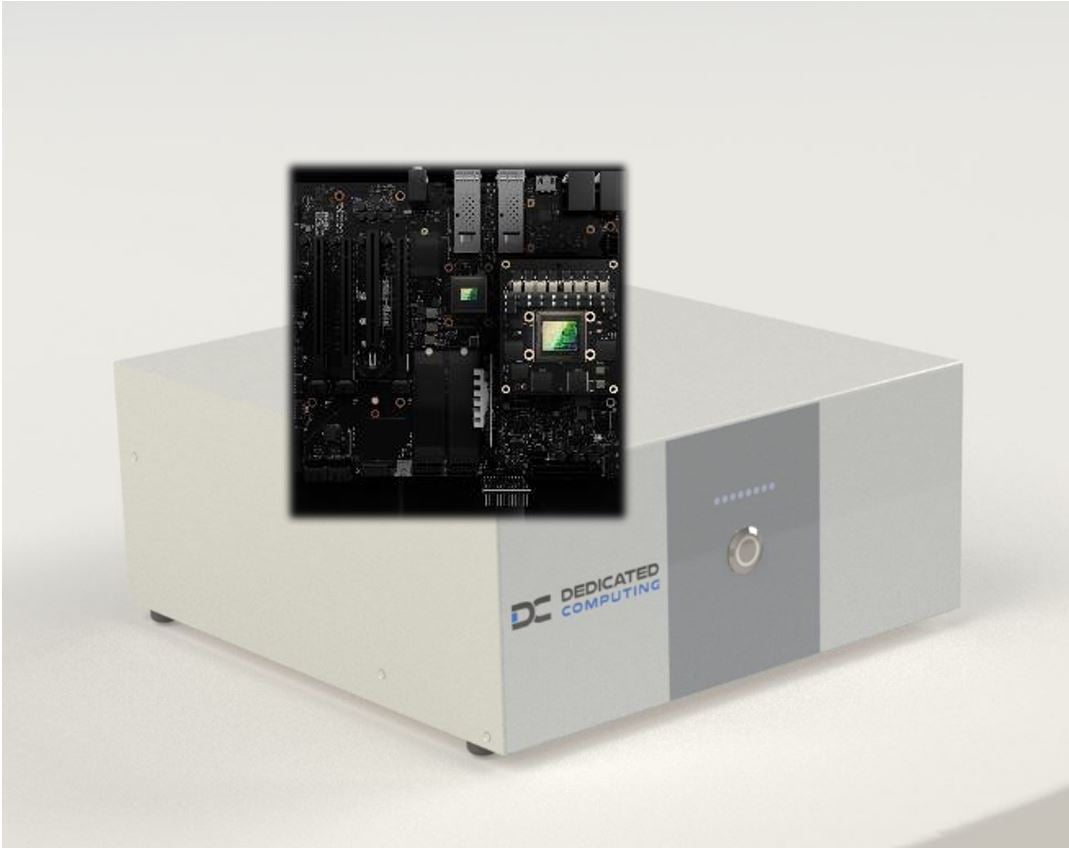 Leverage NVIDIA IGX with NVIDIA Holoscan and Metropolis to create an edge AI solution for healthcare and industrial applications.
Today, Dedicated Computing, a leading original equipment manufacturer (OEM) of proprietary and embedded computing systems, provides links to resources enabling developers of edge AI solutions to get a jump start.
These resources include NVIDIA IGX, an advanced, functional safety and security platform for edge AI applications. IGX provides low-latency and multi-inference performance for medical and industrial applications.
Combining IGX platform hardware with software application frameworks — NVIDIA Holoscan for scalable, real-time edge computing and NVIDIA Metropolis for vision and sensor processing — provides developers with valuable tools to dramatically reduce development time of edge AI solutions.
Based on the NVIDIA IGX platform, Dedicated Computing's M1000 family is an optimized building block for both healthcare and industrial applications. Learn more at the links below:
NVIDIA IGX - https://www.nvidia.com/en-us/edge-computing/products/igx/
NVIDIA Holoscan - https://developer.nvidia.com/clara-holoscan-sdk
NVIDIA Metropolis - https://www.nvidia.com/en-us/autonomous-machines/intelligent-video-analytics-platform/
Dedicated Computing M1000 Family - https://www.dedicatedcomputing.com/news/dedicated-computing-announces-its-m1000-ai-edge-acceleration-platform-based-on-nvidias-igx-platform/
Dedicated Computing's building-block hardware designs are diverse and proven, keeping the focus on robust data performance and physical durability for the environmental rigors of healthcare and industrial computing. Decades of expertise include applications featuring AI, machine vision, and advanced GPU processing in healthcare applications such as data acquisition for intravascular ultrasound, advanced eye measurements that eliminate subjective processes, lab and cyclotron automation, fluorescence image-guided, and full color 3D image reconstruction based on light instead of radiation. Within the industrial market, example applications powered by Dedicated Computing include quality and safety product inspection, surveillance, and robot/cobot control.
Click below to set up an engineer-to-engineer discussion of your design needs, from planning and manufacturing to long-term lifecycle and change management: