4 Questions You Should Ask When Selecting an Industrial PC Supplier
Posted by Dedicated Computing on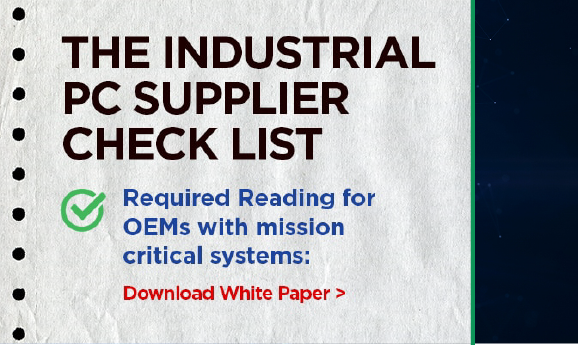 When choosing an industrial PC supplier for your mission-critical product design, consider these four questions before you pull the trigger.
4 Key questions to ask when selecting a supplier for embedded computing:
Can they prioritize smart purchase lifecycles? Choose a partner that understands the long-life demands of embedded, compute-intensive design.
Proactive Change Management - Can they speak to best practices for eliminating unnecessary, and costly changes?
Collaboration - Do they offer the design expertise and personal attention to help get your product to market?
Do they understand the mission-critical value of your product -- offering market that fuels a time-to-market advantage?
Build For Life
If you're an OEM developing life-improving and life-saving devices, each computing problem you solve directly impacts the quality of your product and customer satisfaction. Partnering with an ODM will save you valuable resources that you can apply to developing other critically important products. Strategic partnerships with ODMs offer:

- Download the Build for Life white paper to read more
Intelligent lifecycle management: Choose ODMs that anticipate embedded technology availability for up to 7–10 years in the future, serving the long-life demands of highly regulated medical and life science–related systems
Proactive change management: Distinguish ODMs by their proactive change management strategies that reduce risk and eliminate unnecessary or costly changes by providing product modularity and easier design adaptation for future iterations
Smart, collaborative design: An ODM should configure and validate systems early in product design, helping OEMs avoid issues later on and smoothing out production issues in the long run
Application-specific value: The ODM should work with the OEM to provide comprehensive hardware, software, and service solutions for each specific market vertical
Click the image above or click HERE to read more.
Dedicated Computing
Choosing the right ODM partner to develop your specialized products can save you time, money, and headaches throughout their life cycle.
Contact us to discover how Dedicated Computing can help launch your products and manage ongoing change in ways that will benefit your bottom line and ensure great customer experiences.