Dedicated Computing Integrates 12G SDI and HDMI 2.0 Video I/O with AJA Video KONA XM for Edge AI Solution
Posted by Dedicated Computing on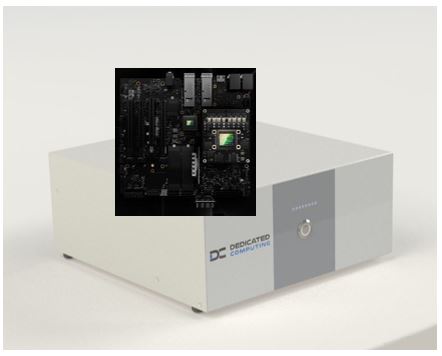 Built-in support for NVIDIA IGX Orin and NVIDIA Holoscan allows KONA XM to enable real-time low-latency AI-driven overlays on live video.
Today, Dedicated Computing, a leading original equipment manufacturer (OEM) of proprietary and embedded computing systems, announced it has integrated the AJA Video KONA XM into its M1000 Family of Edge AI systems.
KONA XM provides popular video interface support combined with features driving lower latencies to blend AI overlays and information with the original video stream. The alpha blending feature provides an extra level of safety by combining imagery within the KONA XM video I/O card.
Based upon NVIDIA Holoscan, a sensor processing platform for building real-time AI applications that run on NVIDIA IGX Orin edge AI computing infrastructure, the integration of AJA Video's KONA XM into Dedicated Computing's M1000 family provides application developers with a valuable solution to dramatically reduce the development time of edge AI for healthcare.
Dedicated Computing's M1000 family is an optimized building block for both healthcare and industrial applications. Learn more at the link below:
Dedicated Computing M1000 Family - https://www.dedicatedcomputing.com/news/dedicated-computing-announces-its-m1000-ai-edge-acceleration-platform-based-on-nvidias-igx-platform/
Dedicated Computing's building-block hardware designs are diverse and proven, keeping the focus on robust data performance and physical durability for the environmental rigors of healthcare and industrial computing. Decades of expertise include applications featuring AI, machine vision, and advanced GPU processing in healthcare applications such as data acquisition for intravascular ultrasounds, advanced eye measurements that eliminate subjective processes, lab and cyclotron automation, fluorescence image-guided surgery, and full-color 3D image reconstruction based on light instead of radiation. Within the industrial market, example applications powered by Dedicated Computing include quality and safety product inspection and robot/cobot control.
Click below to set up an engineer-to-engineer discussion of your design needs, from planning and manufacturing to long-term lifecycle and change management: