Change is Hard: Are Your Products Ready for New Safety Compliance?
Posted by Dedicated Computing on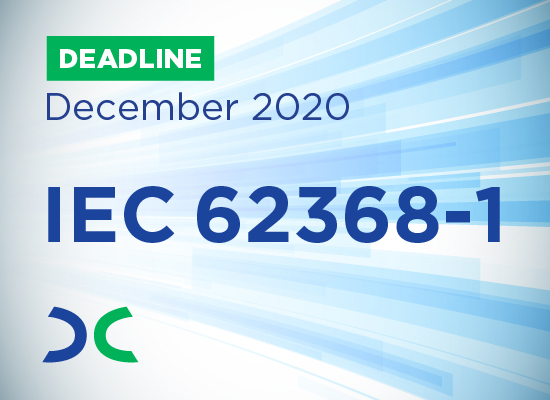 Smartphones that compute, computers that generate intelligence… there is no longer a sharp distinction between entertainment devices and those designed for advanced computational applications.
---
Overlapping standards have emerged as various technologies have become more sophisticated and interchangeable in consumer, office, industrial and medical applications. Such blurred lines have driven the convergence of several standards into one, known as IEC 62368-1, which allows a wider range of products to be certified under a consistent set of compliance criteria. For Original Equipment Manufacturers, the greatest urgency is that previous requirements supporting manufacturing of devices may or may not be supported under the new standard – a close look at manufacture and ship dates is required, with rules varying dramatically depending on where the product is sold.
The New Standard Begins December 20, 2020
Fortunately, the new standard's 'effective date' across geographies has been harmonized to December 20, 2020, marking an important deadline regardless of where your products and systems are sold. Products manufactured before this date and compliant to earlier standards, can be shipped and sold in the U.S. and Canada and remain compliant long-term.
In the European Union, however, there is no such grandfathering of a manufacture date. Products certified to earlier standards must be 'on the market' in the EU before December 20, meaning they must be shipped, received and customs-cleared in order to be salable beyond the transition date.
Even more critically, change is required beyond the transition date, no matter what. Just like previous standards, IEC 62368-1 applies to the end-user product, as well as components and subsystems such as power supplies. Nearly three quarters of power supply manufacturers have found that significant changes are required to their existing products. Most manufacturers have chosen to slate existing non-compliant power supplies end-of-life – creating new products to comply with the new standard and undertaking the additional qualification and certification effort required.
OEM Checklist
Compliance to the new standard is not optional or flexible, and only products that are certified can be shipped and sold. Manufacturers should take immediate action, using this checklist as a guide:
• Understand the urgency: December may be a critical deadline, but everything changes from there.
• Evaluate ship dates: Consider the geographies where your product is sold.
• Inventory end-of-life status: For various components, begin strategizing with internal/external teams.
• Time-Line: If re-certification is needed, adjust your manufacturing schedule to meet delivery.
In brief, the new standard is not simply a merger of the IEC 60950-1 and IEC 60065 specifications. Instead of the prescriptive approach of the past (e.g., defined flame ratings, enclosure thickness, mounting holes, etc.), the design approach is now hazard-based. Designers must embrace a proactive strategy in identifying hazards and their according safeguards based on the intended application of the device. Certification requires them to define the hazard and demonstrate the device's mechanism for prevention.
Other Helpful Resources
We compiled a list of articles from a few reliable sources on the subject of IEC 62368-1:
International Electrotechnical Commission
Start the process today.
Let Dedicated Computing help you through our proven and efficient approach to certification and regulatory compliance. Email our experts at inquiry@dedicatedcomputing.com.